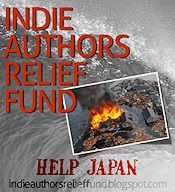 The response to the crisis in Japan by online writing communities has been wonderful to see. Author Kristie Cook has started
a new charity auction to benefit Red Cross International
, with all items and services donated by indie and self-pubbed writers.
Quite a few authors have already made some fantastic items available for auction, including
a signed copy of The Soldier of Raetia and awesome SoR swag from Heather Domin
, and
signed copies of Sultana and On Falcon's Wings by Lisa J. Yarde.
My contribution is a signed copy of The Pilgrim Glass and the winner's choice of a beautiful stained-glass pendant necklace from Color Shoppe Studio
.
Check out the growing list of items available
, and spread the word!